Lectures
Members of the faculty participate in a comprehensive 18-month didactic and case-based curriculum, delivered during protected Wednesday morning academic time. Attendance at Wednesday morning lectures is mandatory unless on vacation or serving as a primary surgeon in the OR.
Grand Rounds
Grand Rounds are held every Wednesday morning at 7:15 AM. The purpose of Grand Rounds is to present challenging or interesting cases/findings and to discuss the pertinent differential diagnosis as well as relevant literature.
Journal Club
Subspecialty journal clubs are held throughout the year.
Morbidity & Mortality Conference (M&M)
Forum for residents and attendings to discuss surgical complications of routine and acute eye conditions, focusing specifically on their own cases. Held three times per year in place of Grand Rounds.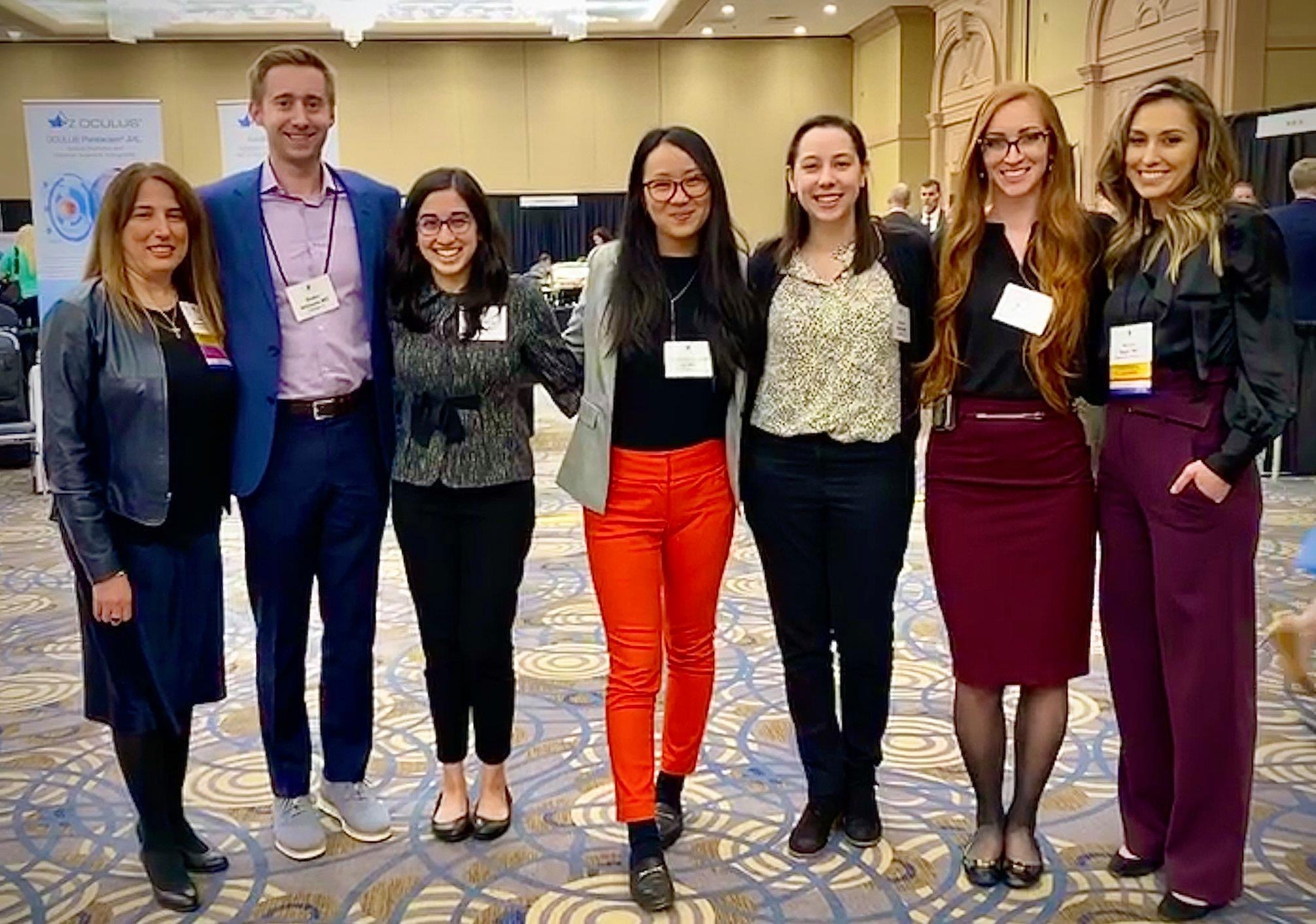 Dr. Chris Albanis with Current and Past Residents
Off-Campus Programs
Chicago Ophthalmological Society (COS)
COS meets one Monday per month from September through April at the University of Chicago Gleacher Center in downtown Chicago. Various nationally known speakers are invited to give lectures.
The Chicago Curriculum in Ophthalmology (CCO)
This lecture series is presented from September through April on Saturday mornings 9:00 a.m. - 11:00 a.m. The six ophthalmology residency programs and faculty from each participate in this citywide lecture program, highlighting the best lectures and lecturers from Chicago.  Voluntary resident attendance is typically excellent for these sessions.
Rabb Retina Study Club
At this city-wide ophthalmology meeting held throughout the year, residents, fellows, and attendings present challenging retina cases for discussion. Retina faculty from all six ophthalmology programs attend, and the diagnosis and treatment plan of each case is reviewed and debated.
Association for Research in Vision & Ophthalmology (ARVO)
Each year our residents are encouraged to design and perform a research project that may be submitted to ARVO. If accepted, the department pays for airfare and lodging for the resident to attend the meeting.
American Academy of Ophthalmology (AAO)
Residents are encouraged to design posters to present at the academy. If a resident does create a poster, the department will pay for airfare and lodging for the resident to attend this national conference. In addition, all three of our third-year residents attend this conference.